The second week of the USS pensions and Four Fights strike got off to a good start today, with QMUCU members braving the adverse weather conditions to set up solid picket lines yet again—GoreTex was this season's must amongst striking staff and supportive students!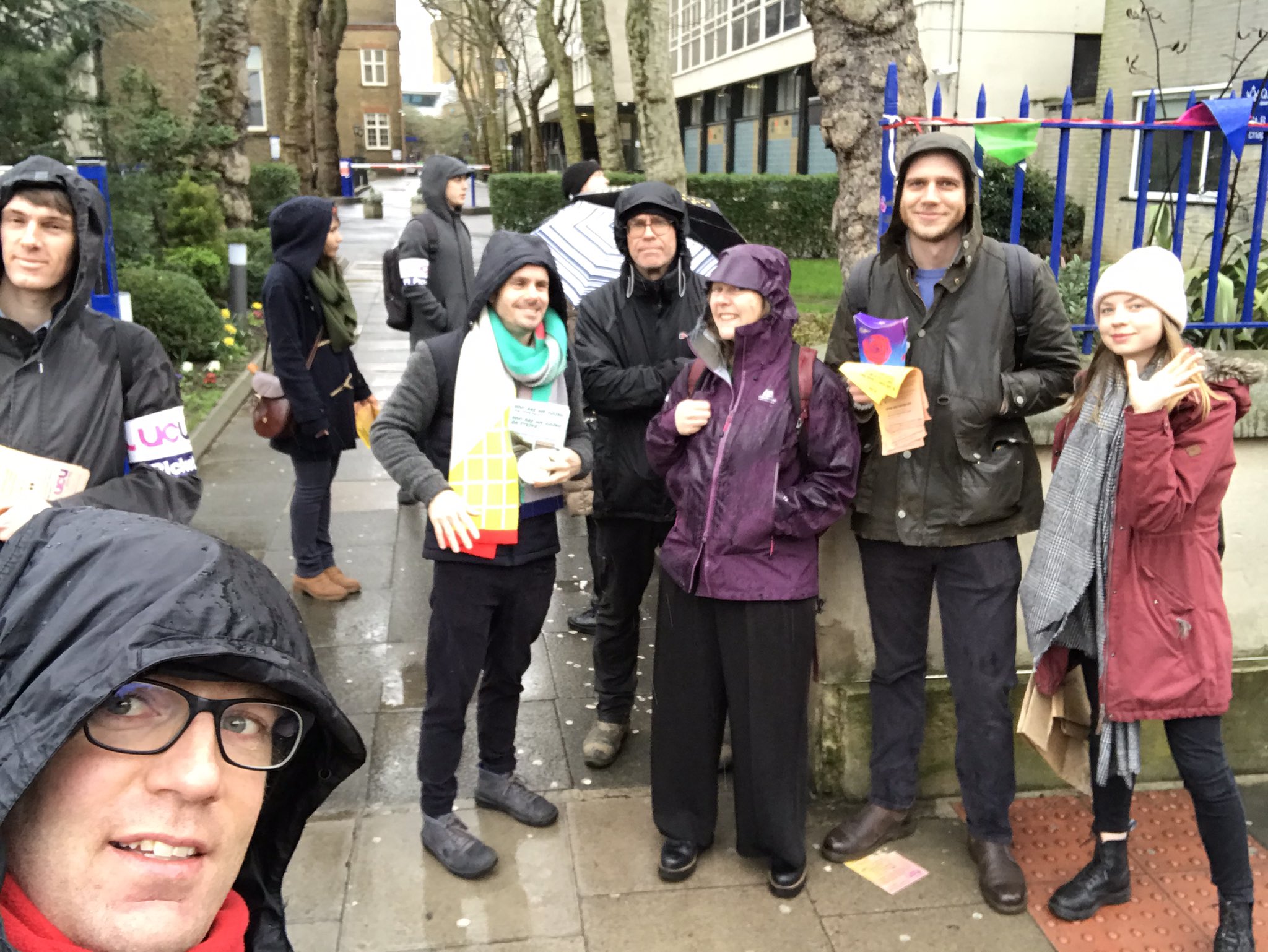 That being said, we are only starting the second week up and we need everybody's help to keep up the pressure. Do your part and sign up to to picket by following this link: https://airtable.com/shrVJek9CMSqMfp2e
If the update on national negotiations in these tweets from Robyn Orfitelli is anything to go by, the pressure is paying off, but we still have a long way to go!
As expected, the highlights of Monday's picket were the teach outs. If you have missed it, here is a link to our amazing teach-out flyer!
The early morning session gave staff a chance to unravel in the knitting workshop, where needles clicked away to help our overworked and overstressed staff relax.
This was followed by an excellent and much-needed discussion on race and institutional racism at QMUL (flyer here). Last year, Sandra Brown resigned from her post as Diversity and Inclusion Manager at Queen Mary, citing institutional racism. In her resignation letter, she wrote:
"There has been a mass exodus of people … who can no longer tolerate the double standards and inappropriate behaviours within management that is particularly directed at women and BAME staff. Have you noticed? What is being done to stem this tide?"
Her email received no public response from management at QMUL. The University is still refusing to take steps to concretely address the gender and BME wage gaps.
BME staff at Queen Mary want to see an end to institutional racism! We are demanding:
A response to Sandra Brown's resignation email from the President and Principal.
A public statement acknowledging that QMUL is institutionally racist.
A Black and People-of-Colour (PoC) only space for staff and students at QMUL.
A migration service that 'actually works': including legal advice, loans and assistance.
Open ended counseling and therapy service at QMUL including therapists who are PoC/Black.
An Engagement, Retention, and Success team that is led by managers who are PoC/Black. More Senior
Managers who are PoC/Black.
Making the 'Task and Finish' group on equality open.
Transparent and open Equality Diversity and Inclusion committees in all schools.
The issue of institutional racism is a persistent problem that our branch is committed to tackling head on. Here's why: https://soundcloud.com/user-483773232/why-we-are-striking
Looking forward to tomorrow, we have teach outs about strikes and human rights, a seminar by QMUL's Kurdish society, and a screening and discussion of Rosa Luxemburg.
See you on the picket line!